Regular price
Sale price
$30.00
Unit price
per
Sale
Sold out
NEW 2023 DESIGN!



Show your support for Israel, including Judea and Samaria, with this brand new, exclusive Biblical Heartland T-shirt.
The front of this quality, soft cotton shirt shows the modern, politically-charged term "West Bank" crossed out and replaced with the historical, biblical name for central Israel: Judea and Samaria.
The back of the shirt features the outline of Judea and Samaria filled in with the names of the 23 most well-known biblical locations that are found in within the region, along with the slogan "Israel's Biblical Heartland".
This is NOT your ordinary cheap T-shirt.  These Biblical Heartland shirts are manufactured by Next Level Apparel and part of their premium product line. Our team has tested out many different brands and styles of T-shirts, and this one is our absolute favorite!
Choose your favorite from six different colors, but don't wait! We only have a limited supply.
✅ Unisex
Material: 100% cotton
Brand: Next Level Apparel
Available Sizes: Small, Medium, Large, X-Large, XX-Large, XXX-Large
Available Colors: Midnight Navy or Royal Pine
What's wrong with the term "West Bank"?
The term "West Bank" was coined relatively recently (first used in 1949) and has been used mainly by anti-Israel groups in their attempts to delegitimize Israel's 3,800 year-old claim to region. The term itself is even misleading because, although the region does include the west bank of the Jordan River, an area 40 miles wide and consisting of over 2,000 square miles of land can be hardly be described as merely a riverbank.
In truth, this region of central Israel is teeming with historical proof of Jewish ownership and sites of great biblical significance. It's no exaggeration to call this region of Judea and Samaria the "Biblical Heartland" for it truly has been the heart of Israel, both geographically and culturally, for thousands of years.
For the anti-Israel activist, it looks foolish to use a term like "Judea" in their argument that the land has never belonged to the Jewish people and should be turned into a Palestinian state. Shifting to a more vague name like "West Bank" obviously makes it easier to delegitimize Israel's claim to the land.
We encourage Christians and Israel-supporters around the world to use the historical names that have always been used for this region––Judea and Samaria––instead of the modern political convention used by those trying to weaken and take away land from Israel. 
View full details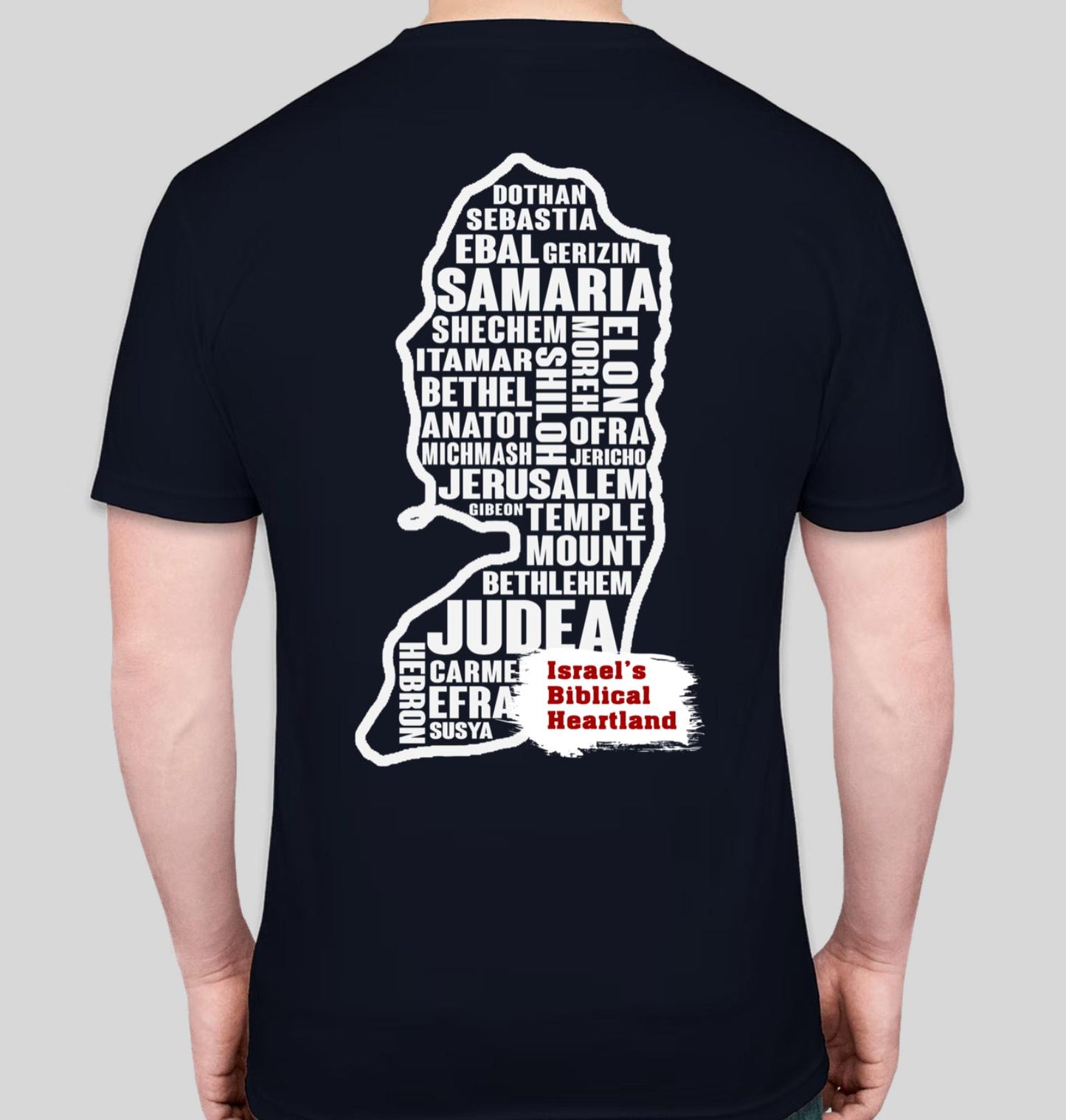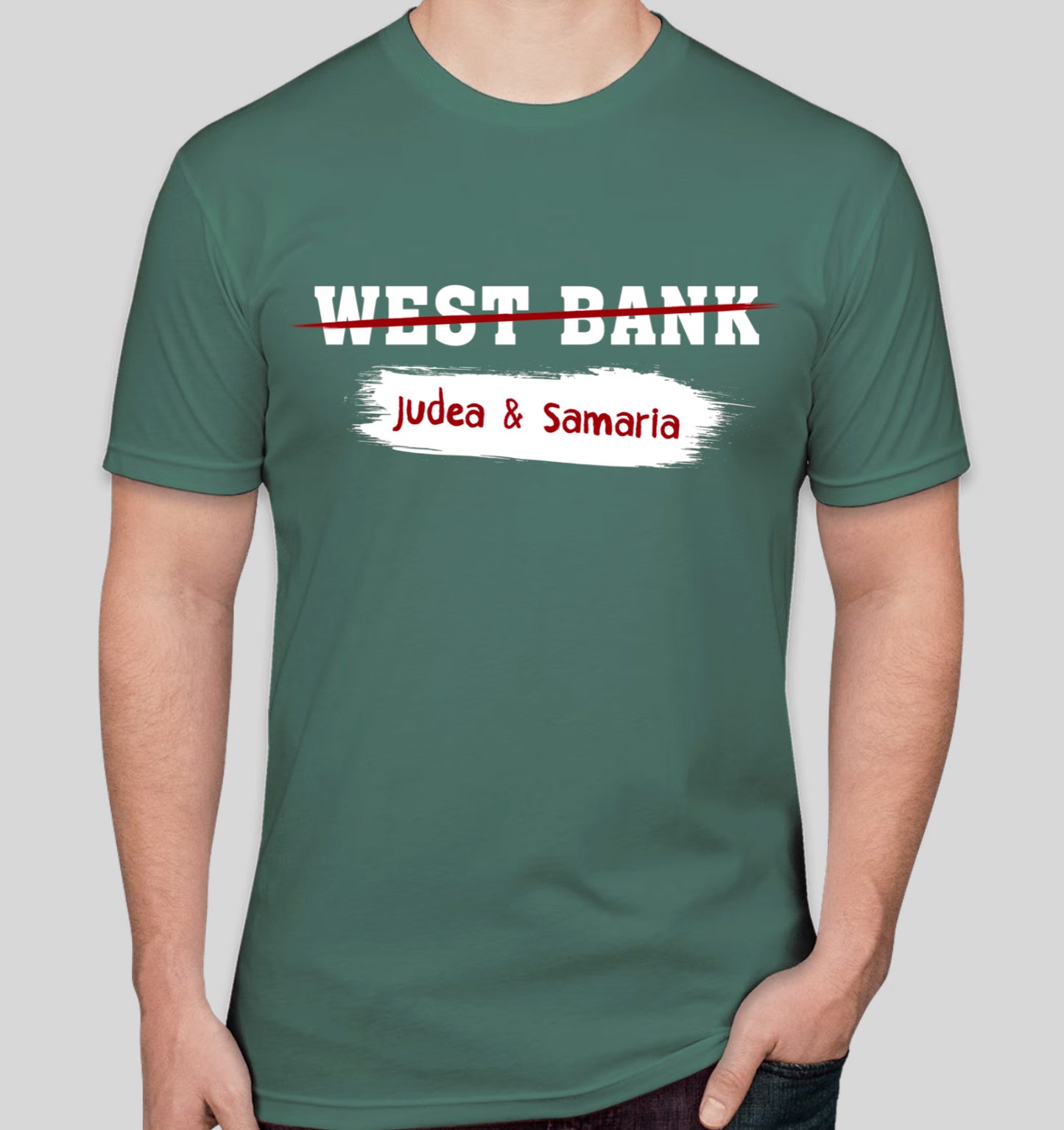 Biblical Heartland T-Shirt
Nice quality, fantastic statement
Tov me'od
Fantastic. Gets frowns, and smiles here in Tucson. I'll be wearing it at the Tucson JCC on 12/10 for the dedication of an ambulance for Magen David Adom. Love Michael
Great shirt even better channel
Quality content from an independent source. Thank you for all that you do.
Quality and Truth
Love the Biblical Heartland T-Shirt because of excellent quality and truthful, meaningful message. Two years after the 6-Day War I traveled to Judea and Samaria and it was basically all brown. Had to travel a long way to finally see a little land that was farmed and a village. Also recent archeology proves that the area is the biblical heartland for the Jewish people. Judea and Samaria is too historically significant to be given to Arabs who attack Jews without provocation and attack Israel on Jewish holy days, showing zero respect.
Love this? Then you also might enjoy . . .